7-Eleven Campaign Brings In Gravure Idol As Ghost Princess Perona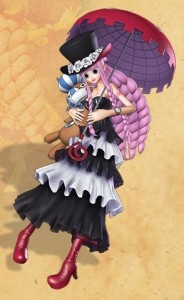 7-Eleven has a brand new campaign with the legendary Eiichiro Oda's (尾田 栄一郎) longest running anime/manga franchise, One Piece (ワンピース). The One Piece tie-in collaboration brings on the heat with gravure idol and Japanese talent, Akina Minami (南 明奈 ), filling in the shoes of Perona (ペローナ) the Ghost Princess (ゴーストプリンセス).
Dressed in Perona's tell-tale gothic lolita-inspired dress and red killer platform shoes, the 24-year-old Minami carried a plushy and a red devil umbrella. Although Minami didn't have pink locks, she still pulls Perona off with her toes pointed inward in the exact same way Perona does.
The pigeon-toed Perona is one of the four antagonists as a member of the Mysterious Four in the Thriller Bark arc. The former commander of the Wild Zombies and Surprise Zombies can summon ghosts from her body with the use of the Horo Horo no Mi (ホロホロの実). Much to her disdain however, Perona works grudgingly together with Roronoa Zoro (ロロノア・ゾロ). 7-Eleven perfectly chose Perona as their character since their event was scheduled for Halloween; the Thriller Bark arc is One Piece's horror storyline.
Check out this video below and be enthralled by Perona in the flesh! The 7-Eleven x One Piece collaboration will only be available in Japan.