31☆Ai Dream Manga Artist Shows Sailor Moon Tribute Art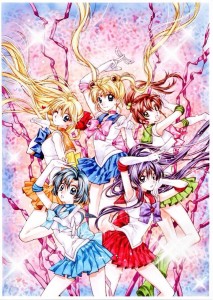 With Sailor Moon Crystal (美少女戦士セーラームーン Crystal) out to conquer the whole world once again, famous manga artist Arina Tanemura (種村 有菜) joins in on the Sailor Moon fever and came up with this beautiful tribute art featuring Sailor Moon (セーラームーン) with none other than her Senshi of the Four Guardian Dieties (四守護神の戦士).
Tanemura graced Comiket 85 with her tribute art of last year's hottest anime hits, Shingeki no Kyojin (進撃の巨人) and Uta no Prince-Sama (うたの☆プリンスさまっ♪). What she's planning to do for this year, however, will be something special. On her official Twitter account, Tanemura has announced that she will be selling her collection of sketches that she has posted on Twitter! That announcement was made on Twitter with her Sailor Moon group art attached to it.
Tanemura is a talented manga artist hailing from Japan. If you're a fan of shoujo manga, you'll know right away that her name is stapled in that genre. Tanemura, 36, made her debut as a mangaka with the manga The Style of the Second Love (2番目の恋のかたち) and steadily became famous for her works such as the iconic supernatural manga I.O.N (イ·オ·ン), Kamikaze Kaito Jeanne (神風怪盗ジャンヌ) and of course, The Gentlemen's Alliance Cross (紳士同盟†).
Follow Arina Tanemura on Twitter to see more of her beautiful sketches!