Tenjin Hidetaka Will Be Hosted By Otakon 2012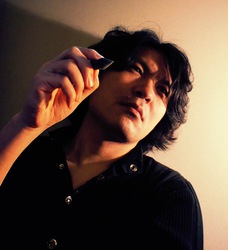 Fans of the anime and manga genre called mecha are sure to have heard of the name Tenjin Hidetaka. In an official announcement made by Otakon last Friday, they will hosting Tenjin Hidetaka on their convention on July 27-28 in Baltimore, Maryland.
Those who are unfamiliar with Tenjin Hidetaka will be in for a surprise. Hidetaka is a very talented artist whose specialty lays in drawing mecha. Although he received no formal training in art, Hidetaka earned a following of fans when he posted fan arts of Macross on his personal website during his college years. His art not only attracted a legion of fans but also the creators of Macross and Valkyries designer Shoji Kawamori was one of them.
With the discovery of Hidetaka, the Macross team took him in and Hidetaka was made to illustrate model kit boxes. Hidetaka was not only asked by Macross to draw model kit boxes, but for also mecha classics such as Gundam, VOTOMS, Patlabor to name a few. His talent brought him further by becoming a game illustrator with Gradius V as a classic example. Later on, Hidetaka worked as the main artist for Macross Chronicle as well as Space Battleship Yamato Fact File.
With a number of achievements tucked neatly under his belt, it's no wonder that this extraordinary artist earned himself a high place in the Otakon anime convention. Don't miss out Tenjin Hidetaka's photorealistic mecha drawings on Otakon 2012 and let his art inspire you to pick up your pencil and draw, draw, draw. Who knows, you just might be the next mecha sensation.