Neon Genesis Evangelion Sword Exhibit Sights Spain And France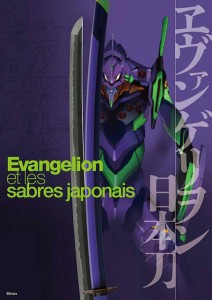 Neon Genesis Evangelion (新世紀エヴァンゲリオン) has held Japanese sword exhibits in and around Japan which became a huge hit around the country. Stepping out of home for the first time, Evangelion and Japanese Swords will be visiting Madrid, Spain and Paris, France soon!
So what is the Evangelion and Japanese Swords about and what should you expect from this cool exhibit? Japanese swordsmiths have been inspired by the Rebuild of Evangelion series of movies that they recreated the weapons featured in those movies into real replicas but with a traditional Japanese touch to it. Evangelion and Japanese Swords began in Okayume Prefecture at the Bizen Osafune Japanese sword museum under the collaboration of the Zennihon Tousyoukai (All Japan Swords Association) and the latest Evangelion movie, Evangelion: 3.0 YOU CAN (NOT) REDO (ヱヴァンゲリヲン新劇場版:Q).
Sponsored by The Japan Foundation and Museo ABC, Spain, the Evangelion and Japanese Swords will feature over twenty items inspired by Neon Genesis Evangelion including the Lance of Longinus (ロンギヌスの槍) and the Magoroku Sword. The exhibit will not be focused on Neon Genesis Evangelion alone – weapons forged and collected over time that existed during the Kamakura until the Edo period will also be put on display. Lectures and demonstrations about Japanese swords will also be available for everyone's educational enjoyment.
Evangelion and Japanese Swords will be coming to Paris on April 30 to June 21 at the Maison de le cultur du Japon a Paris. Spanish fans will get their Evangelion fix on July 5 to November 28 at Museo ABC.