Get Your Necomimi Brain Controlled Cat Ears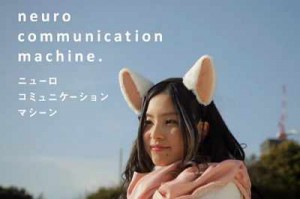 Some people would frown upon otakus who wear cat ears on a regular day. But not anymore. Say hello to the Necomimi.
The Necomimi looks like a simple cat ear headband. Until it moves. Necomimi is a device that moves according to how the user feels by reading the user's brainwaves; it goes up when the user is alert and goes down when the user feels relaxed. It even wiggles up and down when the person is feeling "in-the-zone". The mind-controlled cat ears basically is another way of showing how a person is feeling.
How does the Necomimi actually work? Electrical impulses from the brain moved thanks to neurons. Necomimi Neurowear captures these impulses through the forehead sensor. The brainwave data is then collected and interpreted via the NeuroSky's Attention and Meditation algorithms. With that said, the Necomimi displays the users brain activity and will show what the user is feeling through the simple movements.
Worldwide selling and shipment for the Necomimi is steadily getting its foothold. Crunchyroll News Reporter SailorBee gave the Necomimi a try and she made not only a video about it but she wrote a blog as well, saying "These things are just too cool. Once I put them on, I did not want to take them off."
Get in on the latest otaku trend! Grab your Necomimi ears from Crunchyroll via Shinji's Deal of the Day before it's too late!
Check out this video below and see how the Necomimi cat ears work.