Cosplayer Interviews: Mohren Busgano From The Philippines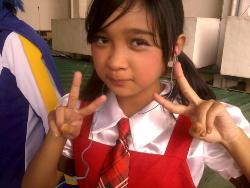 14-year-old Mohren Busgano is nothing short of talent. This young artistic cosplayer can play 3 different musical instruments as well as draw accurate takes anime and manga.
Learn more about Morhen from this Asgard interview!
Asgard: I think you're one of the cosplayers we've personally met that started at a very young age. What attracted you to cosplaying and how old were you when you first started out?
Mohren: I started cosplaying last year when I was 13. What attracted me [to cosplaying] is that I love how people wear the costumes of ther favorite characters. It's like anime has become a reality.
A: How do you decide on which character to go as in cosplay events?
M: I decide on whether the costume is easy to make or if it's simple. Not too much like others; I don't have the money to afford expensive costumes.
A: Do you consider maid costumes to be your personal favorite?
M: No, because maid costumes are kinda… You know. It's too cute for men these days. Men likes girls who are into maids because maids are like slaves to men and reality. Meaning, the cuteness, the short skirts, or the socks they are wearing, are to be seen by perverts like other guys I know who are a cosplayers. For example STEVE.
A: What was your first cosplay event and who did you go as?
M: My 1st Cosplay Event is the 2nd TORCH last year July. I went as Kaai Yuki from Vocaloid.
A: Do you remember exactly how you felt during that cosplay event?
M: Yes, I felt… Normal. It's like I'm attending a costume party with contest and stuff, which was actually fun. I got to meet new friends.
A: How many characters do you have in your cosplay list and how many have you cosplayed?
M: How many characters in my list is only… 4. I cosplayed 4 times too.
A: And these characters are..?
M: Kaai Yuki, someone from the Visual Kei anime, a Lolita, Witch modern. The witch is kinda a made-up of mine.
A: Did your parents agree right away to let you cosplay?
M: Yes, because they think Cosplay is a great opportunity for me and I have a cousin who helps me out. Mom was happy and Dad was okay with it so they both said "yes". It was on my birthday that they agreed.
A: At what age did you start watching anime?
M: I was so addicted to anime when I was 4!
A: An otaku already at 4 years old! So what anime did you enjoy watching at that age?
M: Digimon, Pokemon, Dragon Ball Z and some anime I've forgotten.
A: Is there a specific anime that sums up your childhood?
M: DIGIMON! The best of the best!
A: Do you have any plans of cosplaying a Digimon trainer in the future?
M: Maybe. I think there is one but I forgot her name though…
A: When you decide on a character to cosplay, do you ask mom and dad to help you out with the expenses?
M: Yes. Often… But I shoulder some of my expenses.
A: So what does an young otaku like you do on your free time?
M: Read manga, save pictures in Tumblr (Otakulei.tumblr.com), watch anime, read Otaku Magazines, do the chores, play my violin… And the piano too. I also look for new piece to play. That's all. I think.
A: Have you tried playing anime or japanese songs on those instruments?
M: Yes, Kaijura Yuki's piece. Also, The soundtrack in Pandora hearts, 5 centimeters per second, and some anime I love.
A: Are there anime songs you are currently working on your instruments?
M: Dantalian No Shoka OP song using my soprano flute recorder.
A: Have you considered cosplaying a character who plays musical instruments?
M: Not yet.
A: Would you cosplay one of your characters again?
M: Yes. It's a waste of cloth if I don't cosplay them again.
A: Is there an anime character you can relate to?
M: Sakura Kinomoto. Because she is somewhat like me who is terrible in Math and always cheery with her friends… Even hyper. She has a brother that bullies her and a father that cares for her. Except she doesn't have a mother.
A: What would you say to encourage people around your age who are interested cosplay but are to shy to join?
M: Be confident! Don't be too ulaw (Cebuano term for "shy") just like I was before. Whether it is really hard to understand why people wear the same outfit as there favorite character. Kids, it's called a hobby or the key to being confident.