Cosplay Help: Asgard Cosplaying Tips With Rem Adelynne Roca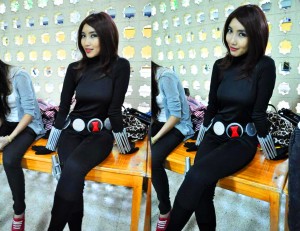 The Asgard Cosplaying Tips returns this week with the lovely Rem Adelynne Roca, who is more commonly known for her stage name as Hoshiko Hikari. You may remember her from the previous Asgard Cosplayer Interview with her beau Kazuo Ryuhei. Asgard talks with Rem about Costume Rentals.
Asgard: How long have you been renting your costumes and why do you rent them?
Rem: I started to rent my costumes this year due to financial and social problems regarding cosplay plans, because I can't just rely and ask my parent's wallet. I must have to do something better and responsible. Before, I really didn't rely on renting but with my services, I guarantee with full trust and security depending on the clients requests.
A: How do you determine the price for your wig and costume rentals?
R: When it comes to rental fees, I discount 10%-30% of the original price. However, there are conditions to be followed before renting the item such as an assurance fee by paying the original price of the item or it may depend on the seller. This is to assure that the client will take extra care and give more responsibility to the item because consequences will be made according to how it was mishandled such as losing the item, not returning the item, and damaging the item. If these consequences happen, I will get the wig and return the money, although not the exact change for the rent fee.
For example:
Sakura Wig: Php200 for rent
Assurance Fee: Php1800
The borrower payed Php1800 and upon returning, he will get Php1600 in exchange. However, if he lost the item and won't return it, I'll take his 1800php. If he damaged the wig, I'll take the Php1600 or it may depend on my choice considering the damage done.
and my rule is "pay before you order".
A: Aside from the assurance fee, what are the other important conditions should clients know about?
R: The other conditions that the client should know is not to wash, fix, improvise or touch my item without my permission; clients can comb the wig and iron it with full care. Rental wigs and costumes are only available in our residence [of Cagayan de Oro City]. I am not yet sure to do rent services nationwide unless with experiences.
A: What happens if an accident occurs? Say for example, if your costume got snagged by a nail and got torn?
R: Then I will take the assurance fee depending how big the damage is. Like, if my costume is worth Php1800, I will take the Php1000 for the damage cost if it is torn. This fee is then used for repairing my costume.
A: Are clients allowed to style your wigs?
R: yes, they are allowed to style my wigs, as long as they followed the conditions of our contract.
A: How many costumes and wigs do you have for rent as of now?
R: 3 wigs, and 2 costumes as of now. My new costumes are not yet for rent because I haven't worn them first. Did you know that I am also renting gowns but cheaper price too?
A: What gowns do you have for rent and can these be used for cosplay purposes? (ex. Vocaloid Magnet Version)
R: It can be use for debuts, parties and cosplay events too, though I haven't post the pictures yet.
A: In the point of view of a cosplayer, what's the best thing about renting costumes?
R: If they can't afford to make costumes on time, lost ideas for cosplans, and rush for the event, rental costumes and wigs are here and ready to provide for them.
A: This is your chance to announce your rental services. What would you say to interested individuals?
R: To cosplayer and non-cosplayers, if you can't afford to buy and rent with high price, I am here to provide you an affordable and reasonable rent price. I rent gowns, wigs and costumes for any kinds of event for you. Feel free to browse my album and ask for more information regarding reservations, and discussions. But do not forget that renting items will always have conditions and contracts to follow because I cherished these items from the bottom of my heart and hypothalamus. 🙂
Check out the R x J Facebook Fan Page for more information on costume and wig rentals.