Comiket In The News: Comiket Shingeki Staff, Free! Items And A Telecom Make-Over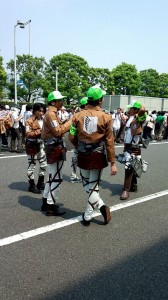 Comiket (コミケット) is perhaps one of the biggest events every otaku shouldn't dare miss. If you've missed out on this one, no sweat! Asgard Anime has got you covered with Comiket In the News with what's happened over at this year's Comiket!
Without a doubt, the Shingeki no Kyojin (進撃の巨人) madness has swept all four corners of the world and Japan is definitely no exception. As evident in Comiket, the Comiket Staff has donned the Scouting Legion uniform as they maintain peace and order during the event. Now, how cool is that? It's as if the Comiket-goers are living inside the Walls (ウォール)! Wonder what happened if Kyojin-Kun (巨人くん) made a sudden appearance…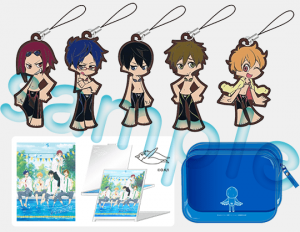 Love it or hate it, Free! (『Free!』公式サイト ) has captured everyone's attention. The boys of Free! make an appearance in Comiket as charms in the art of Panty and Stocking with Garterbelt (パンティ&ストッキングwithガーターベルト)! The charms come with a fold mirror as well as a pouch and is priced at 5000 JPY (51.91 USD). If this set isn't your thing, try the Dive into the Future Summer Set which includes a set of buttons, tote and towel marked at the same price of 5000 JPY (51.91 USD).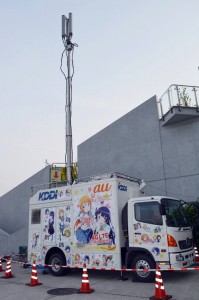 Comiket isn't only overflowing with anime/manga merchandise; it is also swarmed with cosplayers. Telecommunications company, KDDI (KDDI株式会社), joined in on the cosplay frenzy and dressed up their mobile in white and Oreimo (俺妹)!
If you've reached the end of this article without knowing what Comiket is, here's a quick Comiket 101. Comiket is shortened for Comic Market (コミックマーケット). It first started off in December 21, 1975 and it is perhaps the biggest dojinshi market. Comiket is held twice a year in Tokyo, Japan. For more information, check out the Comiket official website here.