Comic-Con Episode IV: A Fan's Hope Shows A Day In The Life Of A Participant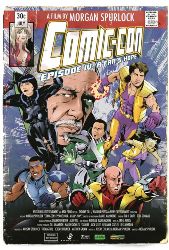 What do you get when you throw in collectors of toys and comic books and set them to meet in a place where they could interact?
Add in a multitude of cosplayers and you get "Comic-Con".
Comic-con started out small with a total of 500 participants until it became a part of pop culture. Director Morgan Spurlock then came up with the film "Comic-Con Episode IV: A Fan's Hope", a documentary that shows the highlights of the San Diego 2010 comic book convention.
Produced by Joss Whedon and comic book legend Stan Lee, this movie captures the behind-the-scenes events that happened during the convention, and also covers interviews from actors Seth Rogen to avid action figure collectors. Be amazed at the hordes upon hordes of cosplayers that come in the most creative costumes imaginable.
The trailer was released last February 22, 2012 and has currently gained over 70,000 views. Comic Con IV: A Fan's Hope will be shown in theaters on April 6, 2012. Let the thrill of the event and the movie convince you into joining the next comic-con! Check out the trailer below and see if you can find renowned Filipino cosplayer, Alodia Gosiengfiao. One helpful hint: she's in the Witch Blade costume.