Asgard Cosplayer Interviews: Nikolais Macababayao From The Philippines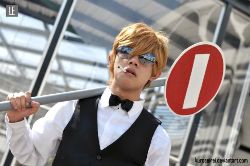 This week's Asgard Cosplayer Interviews highlights Nikolais Macababayao. A full blooded Filipino born and raised in the United States, Nikolais's westernized flair gives him a hard yet elegant edge in cosplaying Heiwajima Shizuo from Durarara!! This Bruce Lee loyalist talks to Asgard about his passion in anime and cosplaying.
Asgard: Growing up, have you always been a huge fan of anime?
Nikolais: Well, yes I have because anime is one of my favorite things to watch aside from shows like Family Guy and Cartoon Network shows. In fact, when I was a kid, I used to watch a Toonami block with Yu Yu Hakusho, Dragon Ball Z, Rurouni Kenshin and as I neared my early teenage years, I was introduced to this late night Cartoon Network Programs like Ghost in the Shell, Full Metal Alchemist, Cowboy Bebop and even InuYasha. But i have always been a great anime fan and still never bores me.
A: Was there a difference in enjoying anime in the United States and here in the Philippines?
N: I don't really see a difference with me enjoying anime in the States and enjoying anime in the Philippines ( the only difference is the language spoken) but anime can be enjoyed by just about anyone regardless of country they come from or country you are in. But I did enjoyed watching some anime from TV5 and some classic anime that me and my cousins used to watch as kids. And again, watched Cowboy Bebop and Dragonball, but I also watch Tagalog dub versions of my favorite shows, Eureka Seven and Full Metal Alchemist: brotherhood.
A: What got you into cosplaying?
N: It was way back in 2009, during the Xavier University Festival Days. After our high school's XU Days performance, My eyes started staring at people dressed up as Naruto characters and even saw my friend cosplaying as Yui from K-On! And so I started to follow them. It was really scary at first because I felt like an anonymous or random person checking out cosplays but then later on, I found out they were CDOtaku memebers and so we became close friends afterwards. Some certain cosplayers that also caught my eye were Steve Flores, who was cosplaying as Wolverine from the X-Men film franchise, Kazuo cosplaying as Gaara from Naruto Shippudden, his brother Kyle as Death the Kidd from Soul Eater and Mark Juanito's Altair cosplay. But there were more cosplays I enjoyed when I went to anime conventions in California, like In Fanime or SacAnime, a lot of the cosplayers who were amazing and some were even creative and those who just dress up just for the photobombs.
And to talk about my cosplay history, my first cosplay character at first was goi to be Sora from Kingdom Hearts 2 because I was still 17 at that time but my mom didn't even let start on the project because I lacked the time and the money ( since those are two things that I considered when I am doing a cosplay) but then, I decided to grow my hair and just start off simple. That's when I dressed up as L from Death Note for Halloween. Like eveyone else who started off cosplaying, it was quite a fail. But that's quite normal for most of us and as time flies, you may want to go into deeper lengths of cosplay (armor cosplay for example). However, I am still at decision stage wherein I decided whom I am going to cosplay this year.
A: Have you faithfully attended every cosplay event in Cagayan de Oro City?
N: Since XU Days 2009, No I haven't because I went back to California. But I did remember those events happened since my friends upload an album of pictures on Facebook. The last event I attended aside from XU Days were the Holiday and Halloween events at SM City Mall. So far, I can only look forward for something big or something interesting.
A: Have you been to cosplay events in California?
N: Of course. I have attended Fanime, California's second biggest anime convention, SacAnime, a convention located in California's capitol city, Sacramento, which is like 2 hours away from my city, Hayward, and also a local event called Kin-Yoobi Con. Also, there was the J-Pop Festival located in San Francisco's Japantown. A lot of good things happened to me at those times like I ran into a couple of the viral Vocaloid dancers in the J-Pop Fest. While I got to meet american english Voice actors travis Willingham and lauren Bailey, who voiced as Roy Mustang and Lust in the English dub of Fullmetal Alchemist and as well as Guile and Chun-Li in SFIV, at Kin-Yoobi Con. Though I wish I would attend those events again this year, I have to focus on my collrge education. But maybe next time when I am back in California.
A: That is so awesome! Have you cosplayed on those events? If you did, what character did you go as?
N: It was only Kisame in Fanime 2011. But I did also go as Yamamoto Takeshi with a huge Zangetsu Sword used by Ichigo in the same event since I was having fun and being creative with cosplay at that time.
A: Any characters you're going to cosplay in the near future?
N: Absolutely a lot for me. I even had plans to cosplay as Spike from Cowboy Bebop, Darth Vader's apprentice who was the main character of The Force Unleashed, Bruce Lee's yellow tracksuit as shown in the Game of Death but that's all I can say for now. But then I also have plans to improve in My Kisame cosplay and will try to push my Sora cosplay. I can't cosplay all of them in just one year since it does require time to complete a single one and also, I always want to find time to cosplay if I am not that busy with school, which is my biggest priority. If there's a character I like or find interesting, I am going to try my best to portray him very well since cosplaying requires one person to have at least one thing in common with their character. From what I noticed, when I cosplayed Shizuo from DRRR!!, he and I share the same atitude and badass persona while L (Death Note) and I are born on the same day (October 31) and that we are also emo-like… Well that was me before!
A: Tell us how Bruce lee influenced your life.
N: Well, he's not just a martial artist with a milli-second death punch; he is also a philosopher. He is my favorite actor and martial artist because his teachings and philosophy continue to inspire most of us today. It doesn't mean I would want to act like him, in which I couldn't do since I haven't taken up Jeet Kune Do, but all I have to do is just follow his philosophies. One thing he told the world is to "Just be yourself" instead of trying to copy someone's persona or swagger. It also applies to my cosplay life as well since I am the kind of person who doesn't want to find fame from cosplaying like Alodia and people shouldn't try to brag about how fabulous they look when they cosplay because it's all having fun portraying the character you admire alot. And also be like water, be as flexible as you can be. Go with your own flow.
A: There are a lot of Bruce Lee incarnations in video games. Is there a particular video game version of bruce lee that you like?
N: My favorite is Marshall Law from Tekken since I have been playing Tekken since I used to play Tekken 2 on my Playstation 2. The reason I like this version is because I always go crazy with his juggle combos. Plus he can cook!
A: In your opinion, what's the best thing about cosplaying?
N: Cosplaying is about having fun, being creative and portraying your favorite character. You don't have to spend a lot of money nor feel "classy" and it doesn't matter if you are doing a couple cosplay, armor cosplay or even crossplay; what matters the most is that you let those people enjoy watching cosplay. Also, what I have noticed during XU Days and Fanime is that it brings everyone together and to socialize with other people who are interested in cosplay and I was really proud that I found friends like these. If it weren't for them or cosplay in general, I don't know where I would be right now.
A: What advice would you give to a novice cosplayer?
N: You, the novice cosplayer! You may be like me as of now, but it doesn't mean you're not as unique as your friends, who are good at cosplay, for you can be like them. All you have to do is follow where your heart leads you and if you found someone you want to portray, go for it! But remember always be yourself, be flexible; go with your own flow. But there is only ONE RULE you must follow as a cosplayer: Have Fun!
A: Before we end this interview, is there anything else you'd like to say?
N: Shoutout to my friend in California, Ashley Nuncio, who is a big fan of my character's rival, Izaya Orihara of DRRR!, my family and friends, both in CDO and California, and even to my friend whom I have been recently chatting with, Emma Rpg. Peace!