Animax Asia Holds Dubbing Competition At AFA 2012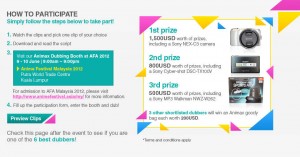 Do you have what it takes to be a seiyuu?
Animax Asia will be holding a dubbing contest this coming June 9 and 10 at the Anime Festival Malaysia 2012.
Seiyuu is a Japanese word which means "voice actor/actress". Voice actors do more than just doing voice overs and narrations; these individuals give life to the world's best known anime and video game characters and they have garnered a huge following themselves. Famous Japanese voice actors worth mentioning are Midorikawa Hikaru (Tamahome from Fushigi Yuugi, Heero Yuy from Gundam Wing, Kaede Rukawa from Slam Dunk and Lancer from Fate/Zero), Takehito Koyasu (Ran Fujiyama from Weiss Kreuz, Admiral Aokiji from One Piece, Gatenmaru from Inu Yasha and Pesche Guatiche from Bleach) and Ikue Otani whose world famous Pikachu voice wasn't changed even in the English dub of the Pokemon series.
The official Animax Asia website has provided instructions for interested participants. Contestants can choose clips available for download on the same website from Sakura (Naruto), Hilda (Beelzebub), Natsu (Fairy Tail) to Ritsu (K-On!). Scripts are also included for downloading. Visit the Animax Dubbing Booth at AFA Malaysia 2012 from 9:00 AM to 9:00 PM on June 9-10, 2012, fill up their participation form and dub away! Prizes are up for grabs in this competition with the first runner up walking away with a whopping 1500 USD and a brand new Sony NEX-C3 camera.
Try your luck and you just might become the next, world famous anime/video game seiyuu! For more information, head on down to the Animax Asia website. Visit the page again on June 18 to see if you're one of the lucky winners!