A Trip Down Memory Lane: Remembering Questor With Ms. Bambi Eloriaga-Amago
Author's Note: I did this interview some time ago on my personal blog. I took my old site down because I could no longer take care of it. However, I saved a copy of this special interview and it is with great pride that I share this with the rest of the Anime and Otaku universe.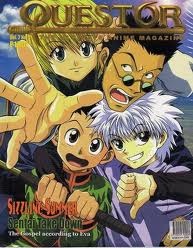 In the late 1990's, Anime became so huge in the Philippines. Questor – The Ultimate Anime Magazine, became a bible to hardcore Anime fans.
During those times, the smooth, glossy and colorful magazines were pricey. Sold at PHp150 (3.55 USD), it was the reason why Otakus saved lunch money just to buy monthly issues and it was worth it. The cleverly written articles can send readers laughing, crying or buried in deep thought. I myself have a mountains of copies left.
It was a part of every Filipino Otaku's life and it was rare not to catch one without it. As a salute to every Filipino Otaku who grew up to love 90's anime, let us remember Questor – The Ultimate Anime Magazine with the one of the greatest Editor-in-Chief the world could be proud of, Mrs. Bambi Eloriaga-Amago.
Asgard: How did Questor begin?
Mrs. Bambi Eloriaga-Amago: Actually, during the late 70's and early 80's, there was already an earlier version of Questor. It was called Questor Science Magazine. The publisher was also the owner of the licenses of the super robot anime that were shown then like Voltes V and Mazinger Z. So when anime became popular again in the 90's, with shows like Ghost Fighter (Yu Yu Hakusho), Fushigi Yuugi, Slam Dunk etc., the publisher decided to bring back the magazine again, this time calling it Questor, The Ultimate Anime Magazine.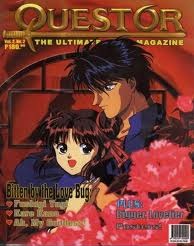 A: What I loved about Questor the most was the monthly themes (i.e cooking, death, mythology). Was it hard coming up with a list of anime that would fit the theme?
BEA: Not so much. We had a system of doing things, we would plot out stories at the beginning of each year. So that we'd have a theme for each month. Sometimes, themes are given, for example, love topics during February, Christmas during December, etc. We would then assign articles or ask our writers to think of specific topics based on the assigned theme per month.
A: I still remember your "I hate Fushigi Yuugi" article right under the Fushigi Yuugi episode guide. Was it a very bold move for you? How did you deal with the different reactions of the readers?
BEA: Yes, I believe it was a very bold move, as FY was a very, very popular Anime at that time. I risked getting the ire of those said fans. And I did actually receive a lot of rants and hate mail for it. It made me quite unpopular. But as to how I dealt with it, I didn't take any of it personally, but treated it as part of the job.
A: I also remember cosplay events featured on Questor. Did your team personally visit other countries just to witness those events?
BEA: Yes, I remember going to Hong Kong to cover the Anime event there. Our very own Mr. JM Chua, who cosplayed as Saito Hajime from Rurouni Kenshin, joined as Philippine Representative. He won a special award that year in HK.
A: How did your team come up with the stories for the comics and how many of those were published?
BEA: The first original manga was a one-shot called Loop. The followed Gokitomo, Occhio del Dio, Nopperabo and Dreamwinder. With the success of these on Questor, we came up with a sister publication called "Questor Extreme Mangamania", which exclusively published manga. The stories there included Big Camp V (a sequel to the original Voltes V series), Sidesweepers, Canta Ista and Free Spirits. As for coming up with the stories to publish, we ask writers and/or artists to send proposals and choose which ones to publish, meaning which ones we think the public would most like to read.
A: The Questor logo has been changed from the golden characters with a sword underneath to the one with the italized letters with Japanese characters at the bottom. Was there a reason behind the change?
BEA: We felt that the later logo had a more Anime feel to it rather than the one with the sword.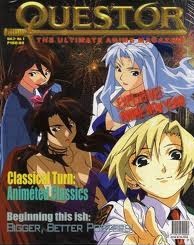 A: What does Questor mean to you as a job and as something beyond that?
BEA: Well, that's just it. It was a job and it was something beyong being just a job. The camaraderie – the bonds that were formed between co-workers who have now become my friends, the nature of the business, the scope of the business… All of it, I look upon with fondness.
A: What advice would you give to aspiring editors-in-chief for anime magazines?
BEA: Be sure to get into the business only if you are really interested in it, this goes to all types of jobs, actually. Master the basics first… Spelling, grammar, etc. Whatever the language of the publication. Listen to those more experienced than you are, but treat their advice with a grain of salt, it is up to you to choose which advice is applicable to the situation or not. Never, ever think that you know everything, there is always something new to learn. Research everything thoroughly first before publishing. Also, pay attention to current trends/hot topics in anime/manga!
A: I have last two questions before I end this interview Ms. Bambi. What's your all time favorite anime and why?
BEA: I would have to say The Vision of Escaflowne. There's something about it that I just find magical. Very simple story, but characterization story pacing, art designs, dialogues and the music… They all come together and complement each other perfectly.