White Pom Pom Proudly Wears Survey Corps Attire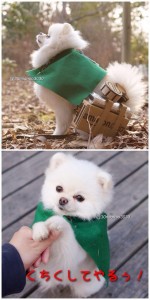 Seid ihr das Essen? Nein, wir sind der Jäger!
Just how adorable is this? 30miomio3030 has put their white Pomeranian under the cosplay spot light decked out in the signature green cloak of the Survey Corps (調査兵団) from Shingeki no Kyojin (進撃の巨人). This pom pom, who posed proudly as seen on the photo on the top left, came with its very own Three Dimensional Maneuver Gear (立体機動装置) to complete the full Shingeki get up!
30miomio3030 has two other dogs that join this snow white pom pom namely a black Labrador and a black-and-white Border Collie. These dogs have become big social media stars thanks to their beautifully taken snapshots that are uploaded on Twitter. While each dog, it's the Pomeranian who is almost always in costume from Snoopy to a captain of a battleship complete with cardboard ship!
While fans are still eagerly awaiting official news of a second season of the anime, Shingeki no Kyojin is still an ongoing manga and light novel series. Created by Hajime Isayama (諫山 創), Shingeki no Kyojin follows the life of Eren Jaeger (エレン・イェーガー) as he defends humanity together with the rest of the Survey Corpse against gigantic humanoid creatures called Titans (巨人).
Watch this cute mini Titan slayer in action in the short clip uploaded by 30miomio3030 below. Check out more photos of them on Twitter and don't forget to follow them!