Shingeki No Kyojin In The News, Vol. 6: An Awesome Female Titan Cosplay, A Cool Exhibit And Creepy Capsule Toys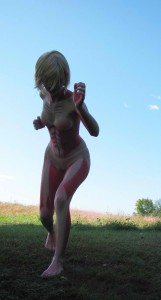 The anime series has ended with episode 25 but the Shingeki no Kyojin (進撃の巨人) mania still lives on in the manga, collectibles and even cosplay! Enter Asgard Anime's sixth healthy serving of Shingeki no Kyojin In the News and what better way to kick things off than with this way cool Female Titan (女型の巨人) cosplay.
20-year-old Tumblr user, Kristen, has set the internet ablaze with her awesome cosplay rendition of the Female Titan. Hailing from New England, this beautiful Female Titan cosplayer's photos went viral and has become a massive hit in Japanese blogs. Who wouldn't be after these way cool shots? Check out more photos of Kristen as the Female Titan here, here and here. Kristen majors in psychology and is training to become a rape crisis counselor. Way to go, Kristen!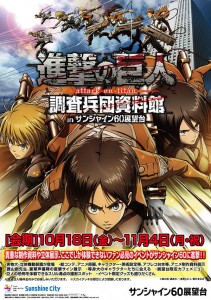 A lot of cosplayers who have cosplayed members of the Survey Corps (調査兵団 ) made their own Vertical Maneuvering Equipment (立体機動装置), also known as the 3DMG, and scaled it depending on their personal sizes. So, what does the actual 3DMG look like? This question will be answered in the Shingeki no Kyojin exhibition to be held at the Sunshine 60 Observatory in Tokyo, Japan. The exhibit will be featuring a replica of a 3DMG as well as loads of art. Shingeki no Kyojin inspired food items is also available in the cafe! If you're planning to visit the exhibit, read up on more information here.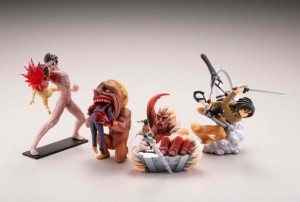 If collecting figures is your thing, then this one is just for you. With Halloween just around the corner, these babies might look great next to your carved Jack O' Lantern. Kaiyodo's Shingeki no Kyojin capsule toys are finally out and for only 400 JPY (4.08 USD) a pop. While 2 of these Capsule Q toys are action-packed, two of them are too action-packed, complete with blood and gore, so to speak. Which one are you hoping to have?