New GMA 7 Show Sends Cosplayers Into A Frenzy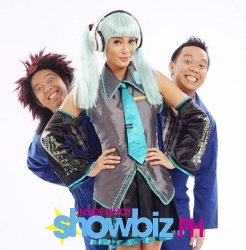 Giant Philippine television network, GMA has released a new TV show entitled "iBilib". iBilib is an educational program that focuses on science and technology. Although the show aims to attract the audience, the promotional photos of the TV show attracted the different reactions of otakus and cosplayers.
Dressed up as Hatsune Miku, actress Isabelle Daza hosts the show along with renowned Filipino athlete Chris Tiu and the Momoy Palaboy pair. Cosplayers raged at how Hatsune Miku was portrayed. "What kind of a joke is that? GMA is a big network but can't afford to buy a proper wig for a Hatsune Miku cosplay! It's supposed to be in the highest quality and that costume is obviously made from low grade fabrics!" A cosplayer rants. Another supported the idea saying "If they were to expose cosplay, what they did was a big mistake! I mean the wig is wrong, the headphones and even the costume itself. They're a big network; it's impossible that they can't afford these!"
Hatsune Miku is a Vocaloid or "Vocal Android", a computer program that people can manipulate in order for her to sing songs of their own composition. It is no doubt that she has become the poster child for science and technology after the world famous Vocaloid 3D holograph oncerts.
Some cosplayers have some mellow comments despite the controversial photos. "She doesn't look good as Hatsune Miku," one cosplayer wrote. "But she shouldn't be blamed for this. It's the designer and the TV show you should point your fingers at. She's only wearing the costume." A cosplayer also aired his views on the matter saying "Cut her some slack. That's not even the point of the TV show they're doing and what Miku wears kinda fits the science and technology motif. This is an educational show, not a cosplay show. They're not representing cosplaying in any way so could you guys just get over it? I'm sure she means no disrespect to the cosplay community."
Love it or hate it, the fact that Hatsune Miku has gained that much popularity and influence can never be denied. iBilib is on every Sunday night after Kap's Amazing Stories only on GMA 7.
Photo credits go to www.insidepinoyshowbiz.ph