Movic Releases Official Kill La Kill Cosplay Costume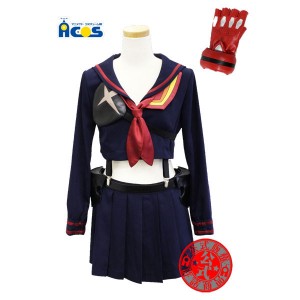 If you're planning to go as Kill La Kill's (キルラキル) totally badass protagonist, Ryuko Matoi (纏 流子), then Japanese company Movic (ムービック) has definitely got you covered! The latest addition to Movic's ACOS line is the official Ryuko Matoi Senketsu (鮮血) costume. Now you have your very own Senketsu to have and to hold forever without having to drain you of your blood!
Movic's Senketsu comes with the following: a top complete with Senketsu's eye and eyepatch, skirt, red tie. It also has the skirt and suspenders as well as other accessories such as the pouch and gloves. The costume comes in four (4) sizes namely small, medium, large and extra large so there is definitely a Senketsu for everybody!
Senketsu is Ryuko Matoi's beloved Kamui (神衣), a god robe created out of life fibers which give the user extraordinary abilities in exchange for blood. Senketsu comes in the form of a sailor fuku which Ryuko herself found. For a piece of clothing, Senketsu is levelheaded, sensitive and highly sentimental.
The Ryuko Matoi Senketsu uniform goes for only 20,520 JPY (200.11 USD) with tax already included and will be released on July. This is perfect for those last minute change in cosplay plans! Ready to place your order? Them visit Movic by clicking here to grab your own Senketsu!