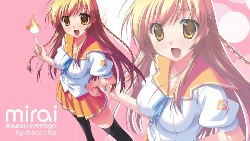 Who's that buxom anime chick with the long brown hair with braids and clad in a school girl uniform? From what anime is she?
She has vast amounts of merchandise ranging from poseable figures to even her own curry flavor. Girls (and maybe some guys) cosplay her and even dolls dress up like her. So who is she and why is she so popular?
Those who aren't familiar with Mirai Suenaga, as she is called, might confuse her with a lot of anime titles since she makes appearances so here's the 101 on Mirai Suenaga.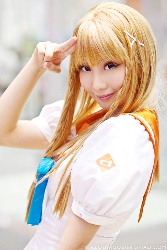 Mirai Suenaga is the mascot and brainchild of Culture Japan host and blogger, Danny Choo. With the help of illustrator Azami Yuko, Mirai Suenaga was born on the corner of Danny Choo's blog in 2007 and gained immense popularity since then.
Mirai co-hosts Choo in his television show, Culture Japan, as well as stars in her own show entitled "Mirai Millennium". Aside from Mirai Millenium, Mirai appears in a number of anime shows such as Mayo Chiki and Twin Angel to name a few.
Danny Choo gave life to Mirai by making a short biography of his mascot on his official website. Read more about Mirai on www.dannychoo.com