Manila Shooting/Robbery Incident Involving Cosplay Leads To Twitter Outrage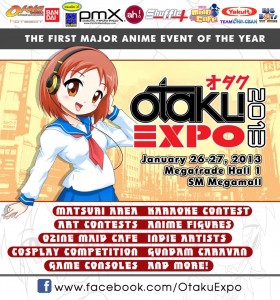 Last Saturday, January 26, 2013, SM Megamall and the rest of the mall-goers experienced the fright of their lives as robbers came in the premises and raised a shoot out.
The robbers raided F and C, a jewelry store located at the mall's ground floor.
It was unfortunate that the shooting took place on the day that Otakuzine Anime Magazine had held an otaku convention and rumors reportedly spread that the armed gunmen were wearing costumes to blend in with the crowd. In concern for the safety of the convention attendees, the event organizers have announced on their official Facebook page that the second day of their event has been cancelled due to the circumstances.
It was confirmed two days later by the local news, however, that the suspects of the robbery did not don costumes. Neither did they take on masks. This important bit of news didn't stop from spreading ill views over cosplay in Twitter.
#PassAntiCosplayBillNow became the source of much heated debate and angry exchange of words since this tweet was posted:-
As this incident clearly illustrates, it's not responsible gun owners we should worry about. It's cosplayers. #PassAntiCosplayBillNow

— Dax Lucas (@daxlucas) January 26, 2013
Although the person who first tweeted it apologized, saying, that no such Bill would be passed in Congress, it was already too late – cosplayers and otakus already vented out their anger, especially towards this tweet that was not well received ('imbeciles'?).
Gerard Sison, a veteran cosplayer, commented on the Twitter issue through a friend saying, "Careless tweeters trying to link us to robbery tsk tsk. Be responsible social mediums please".
For more updates on the robbery shootout from the cosplayers point of view, visit Otakultura.com. Cosplayers, anime fans and the whole of the otaku community in Luzon should visit Otakuzine Anime Magazine's official Facebook Fan Page for more news on the Otaku Expo 2013.