Kamen Rider #1 Visits Thailand To Give Gifts To Children
The best part about doing charity work is seeing th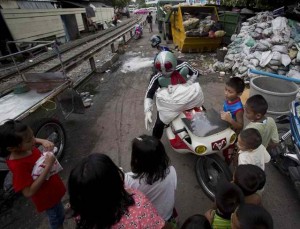 e happy smiles on people's faces. What happens if you're dressed as a cool, well known superhero? It will certainly make an even lasting impression. That's what Akihiro Tomikawa is doing with his Kamen Rider #1 (仮面ライダー1号) costume. Every 2 months, he visits Thailand with a bag of toys he distributes to children residing in the slums of Bankok. It's like having a superhero Santa Claus 6 times a year!
Tomikawa, 44, works as a businessman and his bi-monthly trips to Thailand is a charity work he gladly partakes in.
Kamen Rider #1 is the first ever Kamen Rider in the Japanese tokusatsu (特撮) series. Kamen Rider is a superhero based on a grasshopper and is never without his trusty motorcycle. He is one of the biggest faces of Japanese entertainment and is known worldwide. In the original Kamen Rider series, Takeshi Hongo (本郷 猛 ) is a brilliant college student taking up biochemistry with an IQ of 600. The motorcycle enthusiast was kidnapped by a terrorist group called Shocker (ショッカー) who transformed him into a cyborg with super powers. Hongo escapes the facility and transforms into Kamen Rider. Kamen Rider uses his powers in order to fight against the mutants created by Shocker.
Since the first successful launch of Kamen Rider, it was then followed by numerous Kamen Rider versions such as Kamen Rider Black (仮面ライダー) and the latest Kamen Rider Gaim (仮面ライダー鎧武(ガイム).
Image from Associated Press.