Cosplayer Interviews: Zero The Skeleton King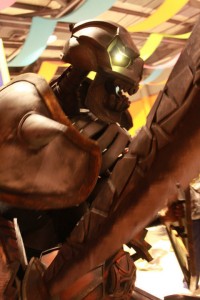 Jose Carlos "Zero" Mallonga III is proof that cosplay makes a huge impact in a person's life. After winning the first Cosplay Tournament of Champions (TorCH 1) in Cebu City together with Amado Carl Hernandez, this Butuan City native uses cosplay in a positive light to improve himself further. Learn more about Zero in this Asgard Cosplayer Interview!
Asgard: What sparked your interest in cosplay?
Zero: Well, when I was a kid, I really got into anime, especially Dragon Ball Z, Ghost Fighter (Yu Yu Hakusho) and more. I tried dressing up like the characters in those anime at home. When I got to high school, that's when I learned that what I was was doing was cosplay but at that time, it was not accepted in society yet since they only saw it as some child's play so I stopped it until I found a group of people in my college days that were into the same thing I was. Cosplaying alone was hard, but in a group, it was awesome. Since then, I kept thinking on who to cosplay next when an event is up.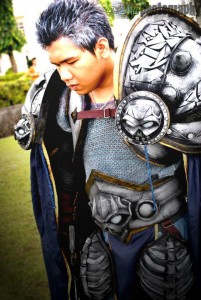 A: When was your first cosplay event and who did you go as?
Z: It happened on August 2007 when FSUU (Father Saturnino Urios University) had it's LCO (League of Campus Organizations) night. My first ever cosplay then was Hollow Ichigo (aka. Ogichi or Zangetsu).
A: How long did it take for you to finish your costume and how much did it cost?
Z: Back then, I didn't do my own props; I relied on seamstresses and people with skills in carving wood. It took about a week, and it cost about PHP 550 (USD 13.04) for the the costume and the props, which were the sword and mask.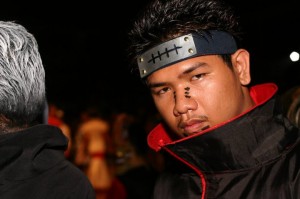 A: How many years have you been cosplaying and what tricks did you learn over the years?
Z: [I've been cosplaying for] almost 5 and 1/2 years now. In those years, I've learned how to make my own accessories, weapons and even my own armors thanks to my friends, mentor and the internet. Now, I'm still learning how to sew my own costume with the help of mom. I've also learned how to modulate my voice to dub various character during skits and got to use my martial arts for fight choreography.
A: Do you have a specific cosplaying style (i.e armor, regular, crossplay)?
Z: I cosplay in any style. It actually depends on my mood and the characters. Characters that catches my interest or I can relate to. So far, I have yet to explore crossplay, but maybe in the near future that'll happen.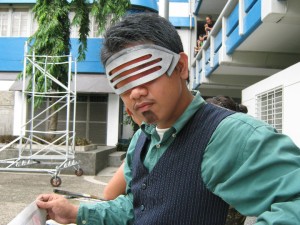 A: How many characters have you cosplayed and which one is your personal favorite?
Z: So far, i have cosplayed over 12 characters, namely Hallow Ichigo from Bleach, Naruto, Kankuro, Kiba Inuzuka and Pain from Naruto Shippuden, Reno from Final Fantasy 7, Sweeney Todd from Sweeney Todd: Demon Barber of Fleet Street, Arthas Menethil and King Leoric from Warcraft 3: Dota, Barret from Final Fantasy 7, Ragna the Bloodedge from Blazblue and a random samurai which is my original character.
A: What's your biggest cosplay achievement?
Z: Being 1/2 of the Champions of the first Tournament of Champions!
A: What's in your future cosplay plan?
Z: One of my future cosplay plan is to cosplay my favorite childhood hero, which would be Zero from the Megaman Games and more armored cosplays to come.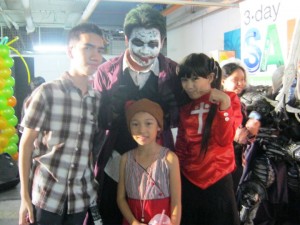 A: Have you been lending your cosplay related talents to other cosplayers? When did you start receiving comissions?
Z: Yes. Every time there was a cosplayer that asked my help, I gave them advise, help make their props and even choreograph and dub for their skits. I started accepting commissions ever since I acquired the skill of wood carving. Though at first, most of my works were still shabbily made. But over the years, I could say that I've improved. Although I still had some kinks in them, the development of my skills can be seen.
A: Would you say that you've mastered the art of cosplay crafting?
Z: I wouldn't say so. I've still got much more to learn and cosplay is not a stagnant hobby since new technologies will always pop up in the cosplay community. Lights, smoke machines, I mean those are just the beginning. I'm itching to learn more techniques in propmaking from other people.
A: What was the best fan experience you had?
Z: The best fan experience I had was when we became guests in the Davao leg of the first torCh after winning the Cebu leg. A group of female cosplayers approached me and asked for a photo with me as King Leoric. As i posed for the shot, they told me to remove my head gear because they wanted a picture of the man wearing the costume. I was moved because no one else asked for a photo with me without part of my costume. That, for me was the best fan experience I've had.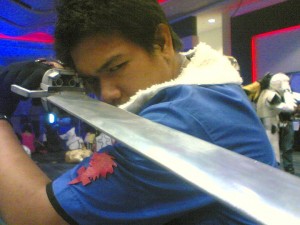 A: What does Zero do when he's not on cosplayer mode?
Z: Either I'm back to reality or I take commissions for cosplayers. Personally, I like the latter better – I get to explore new weapons and armors, learn new tricks and earn in the process.
A: What message do you have to everyone who is too shy to join cosplay events?
Z: For the new bloods, don't be afraid to cosplay the characters you plan to cosplay. There may be people out their who will criticize you, but don't let that stop your passion for cosplaying. Explore, learn. If u stumble upon an obstacle, overcome it and be a great cosplayer you can be. Believe in yourself.
A: What did cosplaying bring out in you?
Z: Cosplaying made me more expressive. Before cosplay, I lived with only studying and video games in my head since I barely had friends because of my lack of socializing skills. With cosplay, I meet new people from different communities, learning and sharing with each other. Cosplay changed me from being a loner to who I am now.
A: What is your all time favorite anime and why?
Z: I actually have 2 faves but if I had to choose, I'd pick Golden Boy because I'm amazed by the protagonist, Kintaro Oe who appears to be a totally perverted idiot who looks around for random jobs, but there was more to him than just that. He actually finished law school but did not march on his graduation. He travels all over japan to learn more about life and he's actually a very fast learner. This anime shows his adventures that's why this is my most favorite anime.