Cosplayer Interviews: Xaga Rae From The Philippines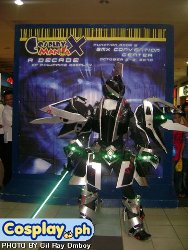 Xaga Rae is one cosplayer in Cagayan de Oro City, Philippines that has a burning passion for armored cosplay. Taking a few minutes off from his birthday party to answer quick questions, Xag lets his cheery personality loose.
Asgard: How did your interest in cosplay start?
Xaga: Well, it started because I was addicted to [online] games so I was inspired by the designs of ingame armors, especially Ragnarok.
A: What was your first armored cosplay and how long did it take for you to finish working on it?
X: My first armored cosplay was a Ranger Unit Accretia from RF Online. It wasn't quite good at that time and it took me a week to make it.
A: Which anime, manga or cosplay event did you attend with that costume? Did you attract a lot of people with that costume?
X: Well, it was at Xavier University Festival Days a few years ago and yeah, it did because it was a first and very unusual costume with lights.
A: A costume with lights? How did you do it?
X: It's not really total lights like what I made on my successing cosplays that really used technology. It was just a single light on my helmet as its eyes since I was cosplaying a mecha.
A: What materials do you usually use in making armors?
X: Rubber is the most essential part of cosplay armor and the add-on's come after for the designs.
A: We all know that making cosplay armor is a tough job. Did you experience minor injuries while making your costumes?
X: That ALWAYS happens! Burnt fingers from strong adhesive, cuts on the skin, poked fingers from pins and all sorts of clumsiness.
A: Have you considered non-armored cosplay?
X: Yep, but rarely.
A: What characters? And why rarely?
X: Ragnarok Knight, Ragnarok Assassin, Ragnarok Assassin Cross, Kakashi from Naruto, Edward Elric from Full Metal Alchemist, Ragnarok Asura, Ragnarok Gunslinger, Ragnarok Rogue and some random OC's. I rarely considered them because although the materials for the cloth for non-armored cosplay and armored cosplay are nearly the same in terms of price, it's the armors that are more eye catching.
A: That's true. How much do you spend on your costumes?
X: I can't remember but I think it's somewhere below Php15,000 (roughly $357.)
A: Is that the total amount for all your cosplay costumes or just one?
X: It's just one.
A: How many armored characters have you cosplayed and which one is your favorite?
X: I think I have done 8 characters and my favorite is my second and biggest mecha. That was Melee Acretia, Power Core set from RF Online.
A: What character are you planning to cosplay in the future?
X: I still don't know what to make first because there I have a quite a number of characters lined up that I want to cosplay.
A: And everything is still in armor?
X: Yes!
A: What advice can you give to novice cosplay armor makers?
X: First you got to have patience because armors aren't made with just a snap of a finger. It also needs a scientific basis because you'll be wearing it and not a mannequin.
A: Do you have a favorite mecha anime?
X: I don't really watch anime which is why I don't have a favorite title but I am very much in love with video games!
A: Ok, so scratch that. What's your favorite video game?
X: Any game as long as there are mechas in it! First it was RF Online. And then followed by Ragnarok and Bounty Hounds.
A: Is there any game you can recommend?
X: Try the latest online games by Level Up! games and Bounty Hounds!