Cosplayer Interviews: The Unbelievably Versatile Stephen Allen Gacho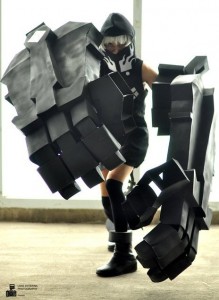 In the city of Cagayan de Oro, Philippines lives one of the well known cosplayers in the person of Stephen Allen Gacho. Known to his friends as "Kookee", happy-go-lucky Stephen unexpectedly rocked the cosplay scene when he crossplayed STR from Black Rock Shooter. Asgard ambushed this highly versatile cosplayer for a one-on-one interview.
Asgard: Tell us how your cosplay life began?
Stephen: It started when Dianne Ferrer and Michelle Del Ayre introduced it to me in 2007, the time when cosplayers were tagged as weirdos, gikan sa peryahan (people from the fair) and all those pang lait (insults). At that time, it wasn't easy for us since it was then socially unacceptable. My first cosplay event was on 2008.
A: Since you've been cosplaying since 2008, what was the first cosplay event you have attended?
S: CDOtaku XU Days*! It was really fun since there were a lot of us in our group who attended. It was also their first cosplay event.
A: How many characters have you cosplayed so far and which character are you highly known for?
S: [I cosplayed] Reita from Gazette (J-Rock band/Visual Kei), Jio Freed from 666 Satan, STR from Black Rock Shooter, Bridget from Guilty Gear and the latest is Kouta from God Eater. I think I was highly known for STR since it was the first time I crossplayed.
A: Was STR a successful crossplay? How many people mistook you for a girl?
S: It was very succesful! I mean, a lot of people thought I was a girl since my legs are kinda… I don't know the term. Girly? I remember someone said "WHAT?! lalaki diay ka (you're a guy)?!" I merely nodded but I was laughing inside.
A: With that advantage, would you crossplay again?
S: Maybe since I'm still looking at international cosplay. But the downside of me is that dili ko kabalo mag facial expression sa girls I don't know how to do facial expressions that girls do) and wanna know how crossplayers cosplay na murag naay boobs sila (in a way that they have boobs).
A: Do you have a specific style of cosplaying (cloth, armor, crossplay)?
S: Cloth and crossplay with weapons, I guess.
A: Among your costumes, which one took time to be made and why?
S: Kouta from God Eater since nka limot ang mananahi (the seamstress forgot) about it. And the weapon's another issue too.
A: In terms of weapons or accessories, which one took time to make and did you make everything yourself?
S: The STR ogre arms! I'm not that skilled in making weapons though so I called in Aaron Arcay (our very own Iron Man) to help me! Leshem Bona helped me with Kuota's God Arc. Before I forget, Molly Salinasal gave me tips on what cloth should be used for Kuota's costume.
A: Do you ever reuse your old costumes for cosplay events?
S: I only reuse them once for XU days and that's it.
A: What's on your cosplay plan?
S: I'm planning to cosplay Kirito from SAO since im a hardcore MMORPG player since I was in high school. And also, I'm planning to join Torch next year then retire from cosplaying to pursue my dreams. But mu support gihapon ko sa (I will still support )cosplay events as a CDOtaku volunteer like the 1st Torch event here in CDO. Or maybe even crossplay Asuna since daghan na kaau ga plan mag cosplay ni Kirito (a lot of people are planning to cosplay Kirito).
A: Is there a secret to pulling off a good cosplay?
S: I think there's no secret on it. For me, if you love that character, knowing how or what he/she does or what's his/her attitude. anyone can pull it off.
A: So what does Stephen Allen Gacho do in his spare time?
S: I'm a full time blog commenter/link builder/SEO (which funds my cosplay expenses) and a full time student.
A: What do you have to say for those people who are too shy to join cosplay events?
S: Come and join the darkside! Don't worry, we dont bite! The cosplay community here in CDO is friendly and we have a group para sa mga gusto mag pa tudlo (for those who want to be taught) or share cosplay tips. It's called WANTED: Cosplayers [Cagayan de Oro Chapter] which is open for CDO based individuals.
A: What's your all time favorite anime and why?
S: All time? That's kinda hard, with all the awesome shounen anime out there… But for me its Boys Be and yes I'm also into shoujo anime. Boys Be Episode 4 still doesn't fail to give me the kilig (shivery) feeling until now!
*Xavier University Festival Days