Cosplayer Interviews: Kimiko Shinju From The Philippines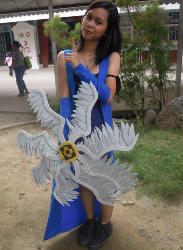 Nothing screams kawaii like Kimiko Shinju. Warm and very friendly, this graceful young lady is a huge fan of Hatsune Miku and Asgard takes a few minutes off her busy schedule to talk to us about cosplaying.
Asgard: We can see that you're crazy over Hatsune Miku. how did this start?
Kimiko: Well, it started when I cosplayed Snow Miku. After that i thought of cosplaying her original form but in a different version.
A: Was this a recent craze or have you been a huge fan of Vocaloid before you started cosplaying Snow Miku?
K: Actually, I started to go crazy on Vocaloid for the past three months now. I love listening to their music, watching their videos and I enjoy their type of genre.
A: What was your first cosplay character? Did you ever wish you did Miku first?
K: My first Cosplay character was Rinoa Heartilly from Final Fantasy 7. It's been a year since I did her. At first I never thought that I would cosplay Miku; It was a challenge for me to do the character herself since her mood shifts depending on her version. I didn't even expect that I would cosplay her.
A: Are you one of the lucky few cosplayers who have joined the first ever cosplay event here in cdo?
K: Actually, I just started last year; I'm still a newbie to the [cosplay] community.
A: So what was the first cosplay event you've attended and how did you get into the hobby?
K: I first attended a cosplay event last year at the Capitol University. It was their foundation days and one of my friends invited me to try it so I took the chance to gain a new lifestyle. As the time passed , I got more intrigued to cosplay: the more I cosplayed, the more people I get to know, and the more characters and anime I watch, the more it makes me want to try more and new characters. It makes me want to do more, not to the fact that I would get a name in the community, but just to have fun.
A: What's the greatest thing about joining cosplay events?
K: Joining cosplay events is really another way for me to test my self confidence as a newbie since I need to be in character. Still, I just tell myself to enjoy and have fun all the way. It doesn't matter if it's a contest or not, I just like having fun and try new stuff. I believe that every event has a purpose for me to build up my personality.
A: On your next take on Hatsune Miku, are you going to go all out like the Singing Dragon version or just the simple ones?
K: I'm still planing on it. I think i'm going to go with the cantarella version first.
A: What other characters have you cosplayed before?
K: I cosplayed Hitagi Senjougahara from Bakemonogatari; Haruka Morishima of Amagami SS; Haruhi Suzumiya Fantasy Version; Yui Hirasawa from K-On , a gothic lolita and a random rpg character from RAN online.
A: Any plans of doing a couple cosplay with your boyfriend, Xag?
K: We're still having plans, but we still need to decide on what series to do.
A: Would you two go for it on the next TorCH (Cosplay Tournament of Champions) event?
K: We're still not sure since he has already picked Steve as a partner.
A: Any tips on newbies who would love to go as Hatsune Miku?
K: What I can only say is that they should have fun. It doesn't matter how they do it; everyone has their own unique way to portray her.