Cosplayer Interviews: Claro Alberto Capinpuyan VI From The Philippines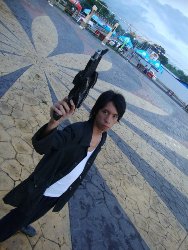 Claro Alberto Capinpuyan VI. Tall. Silent. Easily irritated. Someone who would rather sit on a corner and play the guitar or doodle on a piece of paper.
But beneath all that cool exterior is a fun-loving guy who enjoys the company of great friends and good laughs. "Capz" talks to Asgard about how anime became a huge part of his life.
Asgard: When did your love for anime start?
Capz: The first anime I saw was Dragonball Z. I watched it when I was around 4 years old. I didn't know it was anime back then but my love for anime started when I saw shows like Yu Yu Hakusho (Ghost Fighter), Akazukin Cha Cha, and the ever funny Yaiba.
A: Did it eventually lead you to cosplaying?
C: Well, it's not really the reason why I started cosplaying since I learned about cosplay a few years after being exposed to anime but I really wasn't into it. I did get curious in trying to cosplay after seeing a few friends of mine cosplay.
A: So how did it happen?
C: When I was sometime in my second year of college, I found out about CDOtaku, an online anime forum. This was where I also learned that they have an anime booth during XU days. Two of the members of CDOtaku were cosplaying during the second year of CDOtaku at XU days, so it was then I decided to try it as well.
A: Did you ever felt nervous on your first few cosplay events?
C: Oh, boy did I ever! I mean I get so self conscious if I got the character right. And it's was a bit awkward for me when someone came up to me and asked me for a photo. Not to mention that I dunno how to react if other people don't recognize which character I'm portraying as.
A: Did you got over your bad case of the nerves over time? How do you deal with it?
C: Well, as far as the characters I cosplayed, I still get nervous but I can manage. As for dealing with it, I don't really know how I do it. I guess it just comes naturally to me especially when I'm cosplaying a character I'm really familiar with or a character that is a personal favorite.
A: How many characters have you cosplayed and which one is your favorite in your roster?
C: I cosplayed 6 out of 25 cosplays on my list, and my favorite cosplay has got to be TK from Angel Beats and Mido Ban from Get Backers. Ban is actually one of my dream cosplays.
A: Aside from anime and cosplaying, music is one of your biggest passions. Was there a specific J-Rock song that made you decide to play the guitar better?
C: J-rock actually made me want to get batter at playing the [bass] guitar. A lot of J-rock songs have cool guitar riffs and solos, but what really made J-rock songs stand out was the basslines. I remember it was after hearing songs from Uverworld (D-technolife) and Maimum the Hormone (Zetsubou Billy).
A: How long does it usually take for you to learn a J-Rock song and do you play them by ear?
C: I usually learn a song by ear. And it doesn't take that long for me to learn a song since most Japanese songs have a similar riff pattern. Even if there are songs that I can't play 100% then I just modify those parts instead.
A: Any otaku related activities you do on your spare time?
C: I watch anime but not all the time, only when I found something interesting or if I have a copy of that anime. I usually play video games (specifically Fighting Games), then draw, and play a few anime or japanese songs on the guitar sometimes. I'm even learning to play a few anime tunes on the piano.
A: Speaking of video games, did you cosplay a video game character?
C: Indeed I did! My first cosplay was Kyo Kusanagi's KoF 12 version. After that was his Rival Iori Yagami. And then Beat from "The World Ends with You" game.
A: With all your cosplay characters, is there a specific personality to those characters that you can find in yourself?
C: I can't really explain but I guess, I usually find characters that are somewhat silent or hot headed.
A: Your childhood is one of the best things that has ever happened to you. Was there an anime title during that period that you really enjoy even until now?
C: Oh man, where do I even start? A lot of good anime series I watched then are still awesome now. But I guess these titles are the ones I want to watch and watch again: Rurouni Kenshin, Shadow Skill, You're Under Arrest, Slam Dunk, Trigun, Ninku, Gatekeepers, Get Backers.
A: But Yaiba holds an iron grip on your nostalgia button.
C: Oh! Thanks for reminding me! Yes that anime is probably the funniest and coolest anime I watched when I was a kid. I also remember Wiess Kreuz (Knight Hunters). I remember how we formed our own "Weiss" group along with two of my best buds. We were missing a person for our last member. My best friends chose "Omi" and "Yoji". I had to choose between the remaining characters so I decided I'd be Ken Hidaka.
A: What's the best thing about anime and cosplaying?
C: The best thing about anime is some of the good ones have stories and characters that really draw you towards the world they live in. Others make you laugh your heart out or cry for that matter. The best thing about cosplaying, is you can be the character that you like. For some it might be the character that expresses the kind of person they are. To others, it let's them be someone different.
A: What's your favorite anime?
C: It has to be Black Lagoon. Badass gunslinger girls, swearing and with a gritty look on the environment. It's about the daily lives of a transport team consisting of a Chinese-American girl names Revy along with her companions Dutch, Benny and a Japanese former business employee names Rock as they transport goods from place to place then see the things they get involved in along the way.