Cosplayer Interviews: Chinkie Banquerigo From The Philippines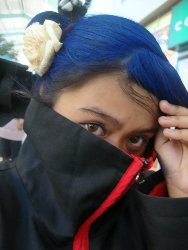 Asgard Cosplayer Interviews comes back with a bang! Under this week's cosplay microscope is ultra spunky cosplayer, Chinkie Banquerigo. This versatile cosplayer talks to Asgard about how cosplaying brought the best out of her.
Asgard: How and when did your cosplay chronicles begin?
Chinkie: I first started cosplaying last Nov.13,2010 as Konan from Naruto Shippuden. I got interested with the cosplaying thing when me and my friend Lowee were talking about anime. Then he brought up the topic about cosplaying and how he knows some people who cosplay and suggested we give it a shot as well. I agreed and I guess that was the start of my cosplay life.
A: Were you one of the lucky few who was at the birth of the 1st cosplay convention here in Cagayan de Oro?
C: Not really.
A: How many characters have you cosplayed and which one is your personal favorite?
C: Oh wow I've cosplayed alot! I think I've cosplayed 9 characters all in all. My personal favorite character would be Bernkastel from Umineko no Naku Koro ni.
A: That's the one where you won in a competition during Torch 2, right?
C: Yep, that's why she's my all time favorite. Cosplaying was fun and at the same time VERY memorable!
A: Have you "recycled" any of your characters in other cosplay events?
C: Yeah, I have. I've recycled Konan, High Priestess and Bernkastel.
A: Was Bernkastel the very same character crossplayed by Xinji? How did it happen?
C: Oh my god! Yes it was! It was on the 2nd day of Xavier days. Xinji along with Aaron and Kookee kinda made plans on dressing up as a girl that day so Xinji and Aaron borrowed my costumes. Xinji got to borrow my Bernkastel costume and Aaron got the High priestess costume. It was a memorable day!
A: Rumors have been flying that Torch 3 is just around the corner. Any plans?
C: I might give it a shot, but its stilla 50/50 plan.
A: Are you planning to join another competition on Torch 3?
C: For now my plans for Torch 3 are kinda on the rocks… But when everything is settled I'll give it a shot and compete once again.
A: How many cosplay competitions have you joined and won?
C: I've joined a total of 2 competitions so far which is Torch 2 and Mindanao Cosplay Summit. I haven't won any of them apparently.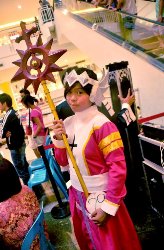 A: Was cosplaying responsible for teaching you how to put own make up?
C: Cosplaying motivated mo to do more artistic way of doing make-up. I got to learn differnt kinds of eyeliner style and covering up the spots on my face.
A: And speaking of artistic ways, when did the hobby of cosplay photography begin?
C: My interest in cosplay photography really started when I saw the works of one of my idols, Shoti Li. I was so amaze how he does it and how he would create this really awesome shots with his cosplay friends. At first I had no motivation coz I was one of those people who thought that you can't get a great shot using a digital Camera until my brother told me "Its not how you use the camera, Its how you capture it". So it kinda sparked my interest in photography more.
A: So your style is using a digital camera instead of a DSLR?
C: Back then I used a digicam but when I got my DLSR last August, I started using it.
It gave me another boost in photography.
A: Do you have a favorite style when taking pictures?
C: I do have a favorite style!
I just love it when they would give me their fighting pose of the signature pose of their character. Makes it more cool to watch them while I take a picture!
A: And what about your chibi shots?
C: My chibi shots are inspired by Mr. Shoti Li. It was one of the memorable things during Torch 2. He gave me tips on how to do the chibi shots.
A: What other things did cosplay bring out of you?
C: Cosplay brought alot out of me really and one of it is my confidence. Back then I was too shy to ask a random person, act on stage or even speak infront a crowd. But now, thanks to the confidence I learned from cosplaying, I'm not that shy now… Well depends on the situation.
A: Any tips for cosplay newbies?
C: Usually I'd say "studies first" but if you could balance cosplaying and studies… Well my tips is don't let anyone bring you down. Always remember you are cosplaying because you want to bring your favorite character to life. There are always haters who would tell you that "your too fat for this" or "you not that bishie to cosplay this", well just ignore them
because this is your choice and not theirs.
A: Last question before we end this interview: what's your favorite anime of all time and why?
C: My all time favorite anime is Umineko No Naku Koro ni because It is the type of anime I would really watch over and over again. It 's a mystery and psychological anime; it's not the type of anime that would have a happy ending all the time. Also it is really a mind twisting anime so, if anyone would really love to watch an anime that give off a case solving aura, I would really recommend Umineko No Naku Koro Ni.