Cosplayer Interviews: Aaron Kit Arcay From The Philippines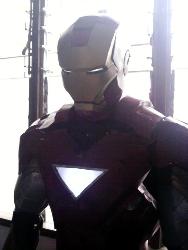 Aaron Kit Arcay is Cagayan de Oro City's very own Iron Man. Though not a billionaire playboy, Kit is a down-to-earth person and a real hero in his own way.
This one of a kind cosplayer, with his perfectly detailed version of the Mark 6, awes the audience with his craftsmanship, creativity and flair. This is one Asgard interview you shouldn't miss reading!
Asgard: Of all the super heroes on the face of this planet, why Iron Man?
Kit: Well to be honest, I did not really think of cosplaying him. At first it was not really possible. I became interested in him when I saw the first movie. Yes, I am an Iron Man fan since I was a kid and a very huge Marvel fan as well . There was just something about how Robert Downey Jr. played Tony Stark that relates to my own personality and that made me really interested to do the character.
A: So Robert Downey Jr. inspired you to don the Iron Man costume?
K: Yes. Even though if I am an avid Iron Man comic reader, I fell in love with the character more when Robert Downey Jr. portrayed it and that gave me the inspiration to not only cosplay Iron Man but Tony Stark as well.
A: Since Marvel was a huge part of your childhood, was there a time during that period where you wished you could be your favorite hero?
K: Very much! Actually my first comic book hero wass spiderman and I'd go around the house pretending to swing from one roof to the other.
A: So aside from cosplaying, you collect toys as a hobby right?
K: Yes, I do. Since I am a very big Marvel fan, I collect toys which are called "Marvel Legends". These toys are a part of my childhood too but did not have the luxury to collect them when I was little because of financial problems.
A: How many action figures do you have so far and how much do you usually spend on it?
K: I'm still starting out but I have 38 marvel figures all-in-all and some Japanese figures. Since I missed out on these toys, I tend to spend a lot because these toys cannot be found in ordinary toy stores anymore and its value increased compared to its price a decade ago.
A: We've seen your collection of Marks. How many of these have you done in costume events?
K: I actually have only one suit finished now which is the Mark 6 and this Mark have been to several cosplay events already. I am also making a new suit which is the Mark 7 for The Avengers movie premiere.
A: Have you joined cosplay competitions in the Mark 6 armor? Did you bag some awards?
K: I only joined one competition with it and that was last November but sadly, I didnt win but that's okay.
A: How many months does it take for you to complete an armored costume?
K: Well it really depends on the costume I'm making. The fastest for me is one month.
A: What characters have you cosplayed aside from Iron Man?
K: Aside from Iron Man, I've cosplayed a series of charcters like Kakashi, Brief, L, and Kamen Rider.
A: Did you pay a hefty sum to get those non-armored cosplay costumes done?
K: Not really thay much. As a wise friend once told me: "If you know how to make 'discarte' (a Filipino word for 'improve') then nothing can stop you from making one kick ass cosplay".
A: Tell us about how Iron Man's appearance made a difference at a children's party in a relief center?
K: It was a great experience because the children were all smiles when we went in with our cosplays. I can really see the happiness in their eyes when we did the little skit.
A: And during the skit, how did the children react when Iron Man fell down?
K: Well I didnt really see first hand because I was falling! But when I was on the ground, the kids rushed circling around me like I died or something. It was really heart warming they didnt know it was a part of the skit.
A: From your roster of cosplay characters, which one is the one you really spent a lot of money on?
K: I think I would give it to Kamen Rider Taiga because that was my first armor build and I had to do several experiments to make it work so I did lots of trial and errors and that cost me a lot of money.
A: And which costume was the most memorable for you?
K: I would say my L cosplay because that established everything. And I got on the top 10 in the first cosplay competition that i joined.
A: If you were a real super hero, what would your super powers be?
K: Money so I can make real suits! (Laughs) If I had real powers, I want to have the power to change the world. It could be anything, but I would like it to have a great impact on the world for a better tomorrow. We can always be heroes we don't need powers, it's the good things that we do for the world that makes us super.