Colossal Titan Appears In Japanese Fashion Magazine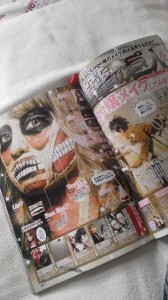 Shingeki no Kyojin (進撃の巨人) has fueled people's passions around the world to cosplay their characters and a lot of these awesome cosplays are the characters in their Titan (巨人) form. Titan cosplays are scattered all over the internet with entries from Female Titan cosplayer Kristen, Eren Jaeger in Titan form by Tania Panagia and even a Colossal Titan cosplay from the hilarious D. Piddy. This latest entry inspired by the Shingeki no Kyojin series is a fresh, girly take but still mind blowing.
If you'll argue with us on this one saying this is Annie Leonhart (アニ・レオンハー) in her Female Titan (女型の巨人) form, you have got another thing coming. Look closely on the photo on the right and you'll see that this is not the Female Titan. The Colossal Titan (超大型巨人) just might be feeling fabulous after finding out that he made an appearance in Japanese fashion magazine, Koakuma Ageha (小悪魔).
Armed with a long blonde, wavy wig and a couple of fake eyelashes, this Colossal Titan make-up has a new gyaryu twist. Now girls can go as the Colossal Titan in cosplay events and conventions! What do you think about this?
Koakuma Ageha is a fashion and lifestyle magazine published in Japan by Inforest Publishing. Labelled as a hostess's bible, Koakuma Ageha issues are released every month and often features models who work in hostess clubs.
Grab this copy of Koakuma Ageha and get a Colossal Titan make-up reference!
Image credits go to Inforest Publishing.