Centrio Celebrates The First Weekend Of The Year With A Cosplay Party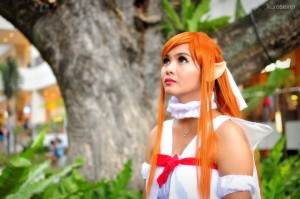 As January slowly draws to a close, the organizing team of cosplayers in Cagayan de Oro have made their monumental mark as Centrio and the rest of the mall-goers witnessed a spectacular display as a huge number of cosplayers took the stage and portrayed their characters in a Cosplay Party event on January 5, 2013 – the first Saturday of the year. Chinx Banquerigo, a member of the team that organized the said Cosplay Party, takes time off her busy schedule to talk to Asgard about the event.
Asgard: How did the idea come up for introducing cosplay to Centrio?
Chinx: Well, the idea came up one day when me and my friends were just hanging out at my place, I opened up the topic about Centrio's Event Manager suggest to have a cosplay event. Centrio is a new mall and they wanted a lot of attraction by all means.
A: Aside from cosplay, did the event show something related to otaku culture?
C: Aside from cosplay, we asked some collectors to display some of their figurines and cosplay armor like my cousin's Iron Man suit. We wanted to show everyone that we don't only focus on cosplaying but also in collecting. It was an amazing sight; the collectors really gave it their all showing their best figurines to the public.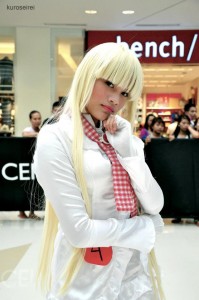 A: There were two major competition levels: the solo and the group category. Did the organizers follow a set of instructions based from other cosplay competitions?
C: Yes, we merely followed the typical types of instruction that you would normally see at Cosplay events. The rules were like a mixture of T.O.R.C.H and M.C.S but if you really think about it in every Cosplay competition the rules are really similar to the rest of the events.
A: The cosplay party had three special judges. who were these judges and why were they chosen?
C: Oh yes our special judges! We have Ms.Veronica Nicole Edmilao, owner of Purecos, Ms. Dianne Marie Ferrer, one of the moderators of CDOTAKU, and lastly Mr. Amado Carl Hernandez, Champion of Anime Festival Asia 2011. We chose them to judge our event due to their knowledge in anime, games, novels and other possible characters that a cosplayer would Cosplay.
A: The walk-in event was a last minute addition to the show. How did this happen?
C: We noticed that there would a large number of people requesting for a walk-in event. At first it was a hard decision since we already have a solo competition but sad to say a lot of them thought that you had to perform a skit to join the solo category, due to false information. In the end we wanted other cosplayers to get up on stage just to show what they got and that's when we decided to have a walk-in competition.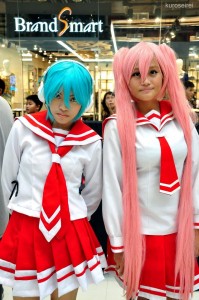 A: How many cosplayers joined in on the event?
C: To be honest I lost count after 38! But there were a lot of cosplayers who joined. I just didn't get the chance to talk to all of them since we were busy with the whole event.
A: What is the most challenging aspect of organizing a cosplay event?
C: Getting the sponsors! I swear it was very frustrating! They would reply like at the very last minute or they won't email you about not approving your request and everything. The whole planning and preparation was simple since we were all doing our jobs but we got stuck with our sponsors.
A: was cosplay taken well by the general public in Centrio?
C: In all honest… YES! To our surprise the whole 1st,2nd and 3rd floor of Centrio's activity center was full we didn't notice it at first but when we got to view our photographer's, Lanz Chester Enterina, pictures we were surprised!
A: If given the chance, would you host another cosplay event in Centrio?
C: With the a large amount of preparation and fund? WHY NOT?
Photo credits go to Lanz Chester Enterina