CDO Cosplay Events In The News: The First Informatics Cosplay Event,C.U Noon Time Show and MCS – CDO Leg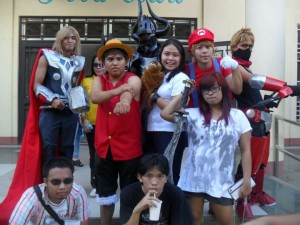 September is chock-full with cosplay events for Cagayan de Oro City, Philippines. On September 6, 2012, Capitol University held an Intramurals Noon Time Show featuring a Cosplay Competition portion. This event is the noon time show's highlight and the students of C.U couldn't get enough. The cosplayers introduced their characters and performed short skits. Winning third place and walking away with 500 PHP (12 USD), is Leshem Bona who cosplayed Katarina from League of Legends. Bagging second place and 800 PHP (19.20 USD) is Robin Cheshire who cosplayed the Abyss Knight from Grand Chase. Stephen Flores takes home the championship as Thor from the Avengers with a trophy and 1000 PHP (24 USD).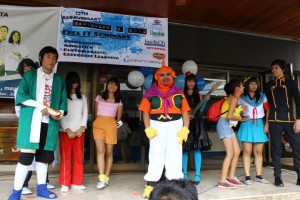 September 15, 2012 was a special day for Informatics Computer Institute. The ISCO or the Informatics Student Council Organization, organized and launched a cosplay event in light of their school's 12th anniversary with the theme Creativity and Innovation: The INFORMATICS TRADE. "We decideded to go with cosplay because you can integrate creativity and innovation at the same time." Pai Kasamahan said on an online interview. The Informatics cosplay event was assisted by chosen veteran cosplayers residing in Cagayan de Oro City and the overall event made a positive impact on the faculty. "They (the faculty) also had fun. They were supporting the students and some of them really loved the idea of it." Kasamahan said. Looks like there will be another cosplay event in Informatics next year!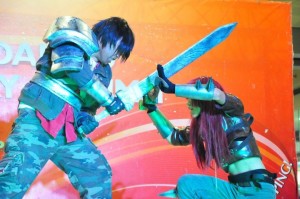 Lastly we have the Mindanao Cosplay Summit – Cagayan de Oro City Leg which was held at SM City on September 16, 2012. MCS is a highly anticipated major cosplay event and is held in key cities of Mindanao, including General Santos, Davao and Cagayan de Oro City. MCS-CDO Leg was attended by a horde of newbie cosplayers which outnumbered the veteran cosplayers. The competitions were hot and these cosplayers came out as winners: Frances Ann Bastillada won the Walk-In Category and an ANBU cosplayer nailed the Solo Category. The Group Category was taken by the team of Veronica Edmilao, Molly Salinasal and Aaron Arcay with their Panty and Stocking with Garterbelt theme while Leshem Bona and Jose Mallonga III won the Pair Category hands down with their epic League of Legends themed cosplay and skit. The event capped off with a cosplay Gangnam Style dance. Check out the video below.
Photo Credits go to Chinx Sachi Bangquerigo and Lanz Chester Enterina. Video credits go to KEETARO.