Dublin To Screen Evangelion 2.0 and Eva 2.0 in March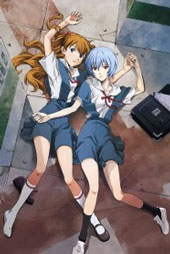 Dublin's Irish Film Institute is to show Evangelion 2.0 You Can (Not) Advance and Summer Wars (Eva 2.0). The two-day festival in March will feature Evangelion 2.0 on 20 March, and Summer Wars on 21 March.
Evangelion 2.0 You Can (Not) Advance is the second film in the remake of the Neon Genesis Evangelion TV anime series. A group of 14-year-olds with giant biomechanical units protect Earth from mysterious Angels. It originally opened June 2009 in Japan.
Summer Wars features a modern family on a midsummer adventure in a light-hearted story of "action entertainment", which originally opened August 2009 in Japan.
---
Guest Blogger
These posts are by our occasional Guest Writers and Bloggers. Our regular writers have their own author pages.
Guest Bloggers Wanted
We want you! We are always looking for exciting new bloggers. If you who would like to write for Asgard, please
get in touch here
. You may want to write about one thing - Cosplay or Naruto? your choice - or whatever takes your interest that day. You can write occasionally or every day. So long as it's relevant and interesting our readers want to hear from you!